35W Audio Amplifier based LM391
V E R T I S E M E N T

This is the FM transmitter circuit which apply 4 radio frequency stages, that are a VHF oscillator designed around transistor BF494 (T1), a preamplifier designed around transistor BF200 (T2), a driver designed around transistor 2N2219 (T3) and also a power amplifier designed around transistor 2N3866 (T4). A condenser microphone is wired at the input of the oscillator.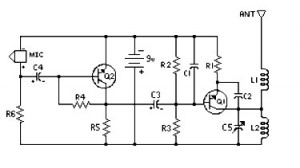 This is a low cost and easy build low powered FM transmitter. The range of the FM transmitter claimed about 300 feets when running at 9V supply. And the range claimed to be increased become about 400 feet when running it at 12V supply. Take a note that this transmitter should not be used as a room or telephone bug.

This circuit is a tuned radio frequency (TRF) receiver of the standard AM (amplitude modulation) radio with broadcast frequencies at 550kHz-600kHz. This is a simple and easy to build AM radio circuit which only using two integrated circuits (IC). This circuit works with 9V voltage supply, you could use 9V standard battery to cupply this AM radio circuit.
This diagram is a schematic diagram of RF amplifier circuit. The circuit will amplify the RF signal about 10 times, 100mW input power to 1.3W output power. It use a general NPN RF transistor 2SC1970. You may apply other transistors, for example 2N442.
Circuit Works:
RF system and specially in RF amplifiers, this circuit really essential to have a stable power supply and getting sure you will not get any RF out on the power line. The Capacitor C12 and C13 will stabilise the DC power supply. L1, C10, C11 and L3 with C8, C9 will also avoid RF from leaking out to the powerline and trigger oscillation or disturbances. L1 and L3 need to be ferrite chokes or inductance's about 1 to 10 uH.
More about 1.3W RF Amplifier »